Single Origin Collection
This is the place to find all our non-espresso coffees. You can serve these in your preferred brewing method; whether it is filter, cafetiere, V60, chemex, syphon or any other way you have discovered to get a great tasting coffee!
These coffees are largely seasonal and a pick of our current favourites. They make up our Single Origin Collection.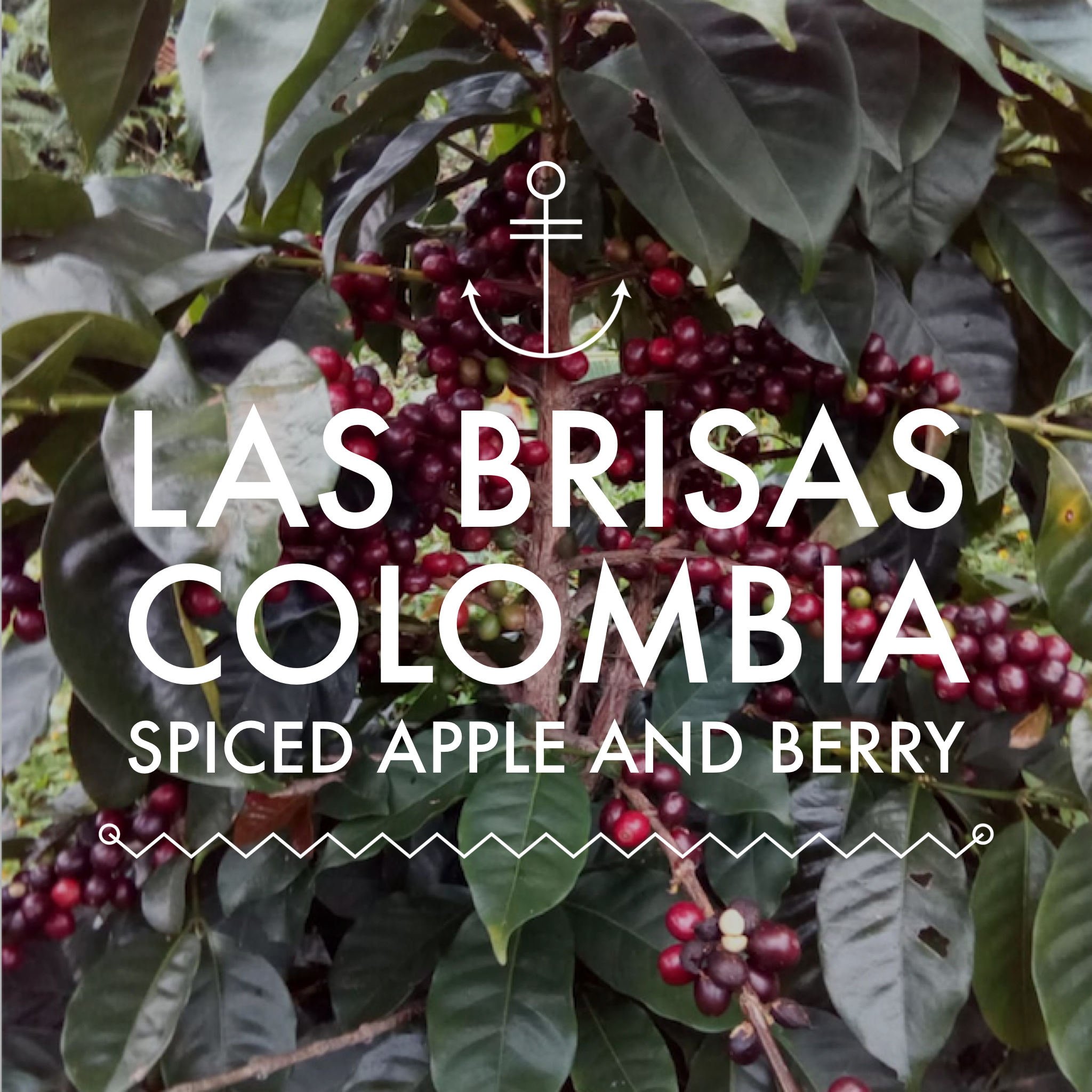 Colombia - Las Brisas
Spiced Apple and Berry Crumble
What a treat we have in store for you with this one from Colombia. Many people asked is we could get back the nutibara (unfortunately not) but this could possibly be even better! Hurry coz we are drinking a lot of this in the roastery.
Producer: Javier canacue
Farm: Las Brisas
REGION: Aipe (Huila)
FARM SIZE: 7 ha
PROCESSING: washed
GRADE: ep10
ALTITUDE: 1,850 masl
VARIETAL: Caturra and Colombia
Brazil Morada Da Prata
Red Cherries, Dark Chocolate, Raisins
Brazil Morada Da Prata is a single origin from south Brazil in Southern America.
FARM: Fazenda Morada Da Prata
PRODUCER: Maria Helena Dumont Adams
REGION: Batatais, SP (Alta Mogiana)
PROCESS: Natural
ALTITUDE: 850 masl
VARIETAL: Red Mundo Novo
HARVEST: May - June - July
The Art of Production
Ripe coffee cherries are floated to separate the densest, highest quality cherries. These high quality cherries are then dried in the sun, constantly turned to ensure even drying and prevent over-fermentation or mould occurring. Once the moisture content has reached 25%, the cherries are transferred to a 'Coolseed' static dryer, allowing for a gentle and controlled machine drying until the moisture has been reduced to 12%. Once the optimum moisture content has been reached the dried coffee is hulled, carefully sorted, graded by bean size and bagged for export.
The Region
Alta Mogiana (High Mogiana) is a traditional coffee growing region in southern Brazil with fertile soils, plentiful rainfall and some of the highest altitude farms in Brazil, with elevations up to 1,250m.
Tanzania Burka / Selian Estate 2018
Stone fruits / bright citrus / red berries
FARMS: Burka/Selian Estate, Arusha & Arumeru
FARM SIZE: 343 ha over 2 estates
REGION: Arumeru/Arusha on the leeward side of Mt. Meru
PROCESSING: Natural
VARIETALS: Kent, N39, Blue Mountain & Catmar
ALITITUDE: 1350 metres above sea level
REGION
The Burka Coffee Estate is located on the outskirts of Arusha national park, on the leeward side of Mt.
STAFFING
Meru, just 80km west of Mount Kilimanjaro, Africa's highest peak.
Burka Coffee Estate was founded in 1899 by German settlers just outside the town of Arusha in Northern Tanzania. The neighbouring Selian Estate was established in 1910 and acquired by Burka in 1991. The first coffee trees were planted in 1918 and now number some 1.3 million mostly shade-grown varietals.
There are around 200 permanent staff at Burka. All permanent staff are provided with housing on the Estates with salary set at least 20% above minimum government requirements.
Staff have social security and Labour Union membership included in their contracts, and an Estate credit union also offer loans and advice for education, health and house construction.
Each estate has its own nursery which educates over 100 children, and two primary schools also cater for over 600 children, from the Estate workers and the neighbouring communities. An onsite health centre with Estate nurse and dispensary is available for all staff, and the Estate has its own ambulance, along with shops, sport facilities and churches and a mosque. Regular inter-Estate and inter-camp football & netball matches occur, along with staff BBQ's and other holiday celebrations.
Workers are supplied with free firewood from stumped coffee trees, fruit & nut trees are grown around the staff villages.
THE ART OF PRODUCTION
Harvest is carried out between the months of May to October through selective handpicking of red ripe cherries, followed by further hand-sorting to remove any over or under-ripe cherries. Cherries are then dried slowly on raised African beds for 12 - 14 days. The cherries are carefully maintained through consistent turning to ensure even drying and avoid over-fermentation. They are covered at night to protect them from excess rain and moisture. Once the cherries have dried to the optimum moisture content they are sent to Moshi for hulling, grading by bean size and careful handpicking before being bagged in GrainPro for export from the port & capital city of Dar Es Salaam.
India Monsoon AA MICROLOT
We haven't had an Indian coffee for a couple of years, so we thought we were overdue getting this seasonal offering, showing off the best coffee coming from India right now.
PRODUCER: Pearl Estate
REGION: Bababudangiri in the South Indian Western Ghats
FARM: Monsooned Malabar AA Pearl Estate
FARM SIZE: 285 acres
PROCESSING: wet processing
GRADE: AA = 18
ALTITUDE: 1280-1417 masl
SOIL: Fertile Black cotton Soil
Uganda Rwenzori Mbata
STRAWBERRY JAM, RED CHERRIES, MILK CHOCOLATE
We're so excited when we get new coffees from different and emerging countries in the speciality coffee market. Uganda is well and truly on the map these days, and producing some of the best coffee in the world. We've got our hands on some of it from the Rwenzori Mountains in West Uganda.

PRODUCER: Kyagalanyi Ltd.
MILL: Kisinga Coffee Station
REGION: Fort Portal, Rwenzori, West Uganda
NUMBER OF FARMS: 350
PROCESS: Natural
ALTITUDE: 1720m
VARIETAL: SL14, SL28, Catimor
HARVEST: August - November